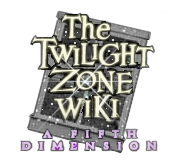 The Twilight Zone Wiki is an online entertainment encylopedia devoted to the collection of accurate information concerning the Twilight Zone franchise.
The English language version of the wiki was created on January 4, 2008 at 18:59, using free software provided by MediaWiki. It is hosted by Wikia under the identification number: 5046.
After a year of relative dormancy, the wiki was redubbed A Fifth Dimension: The Twilight Zone Wiki (AFD) in April of 2009, in order to give the wiki a unique identity. Article publishing resumed and as of June 13, 2009, the wiki contains 203 articles.
See also
Ad blocker interference detected!
Wikia is a free-to-use site that makes money from advertising. We have a modified experience for viewers using ad blockers

Wikia is not accessible if you've made further modifications. Remove the custom ad blocker rule(s) and the page will load as expected.