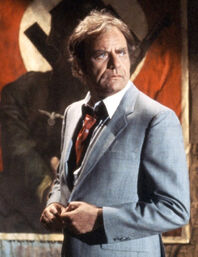 Bill Connor
was a character in
Twilight Zone: The Movie
.
After losing his promotion to a Jew, Connor went to a pub and started ranting and raving about Jews, blacks and Asians. When he left, he was teleported back to Nazi-occupied France. After being chased by Nazis after being accused of being Jewish, Connor was teleported to the times of the Klu Klux Klan and was nearly lynched as a black man. He was then teleported back to the times of the Vietnam War and was almost killed when American soldiers bombed a Vietnamese village. The explosion then sent him back to Nazi-occupied France where he is captured and placed on a train to an unknown location. While on the train he sees and calls out to two of his friends who can't see or hear him. He is then taken to a concentration camp to die.
Ad blocker interference detected!
Wikia is a free-to-use site that makes money from advertising. We have a modified experience for viewers using ad blockers

Wikia is not accessible if you've made further modifications. Remove the custom ad blocker rule(s) and the page will load as expected.