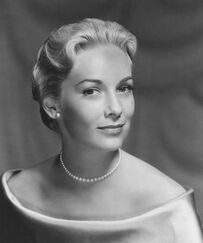 Vera Miles
(b. Aug 23, 1929) is an American actress who is best-remembered for her performance as Lila Crane in Alfred Hitchcock's famous thriller,
Psycho
. Originally from Oklahoma, Miles was a favorite of Alfred Hitchcock, however her four pregnancies often caused her to pull out of projects, most noticably the starring role in
Vertigo
, which eventually went to Kim Novak.

Vera Miles guest-starred on The Twilight Zone in the episode Mirror Image.
Ad blocker interference detected!
Wikia is a free-to-use site that makes money from advertising. We have a modified experience for viewers using ad blockers

Wikia is not accessible if you've made further modifications. Remove the custom ad blocker rule(s) and the page will load as expected.