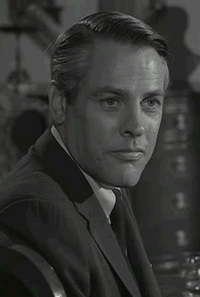 Walter Jameson was a character appearing in the Twilight Zone episode Long Live Walter Jameson. He was played by Kevin McCarthy.
Biography
He was made ageless by an alchemist more than 2,000 years ago. Jameson indicates that he's old enough to have known Plato personally. Jameson doesn't know what was done to him by the alchemist, only that the alchemist was gone when he recovered, and he then stopped aging while everyone around him continued with normal living.
Ad blocker interference detected!
Wikia is a free-to-use site that makes money from advertising. We have a modified experience for viewers using ad blockers

Wikia is not accessible if you've made further modifications. Remove the custom ad blocker rule(s) and the page will load as expected.