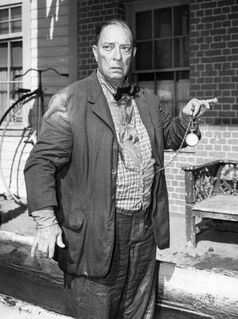 Woodrow Mulligan
is a janitor in the
Twilight Zone
 episode Once Upon a Time. He occupies 1890's New York. He was played by Buster Keaton.
Biography
Mulligan works in the lab of Professor Gilbert, an inventor working in the field of time travel. As Mulligan was coming in for work, the professor announced the completion of his Time Helmet. While the Professor and his assistant were celebrating with Champaign, Mulligan used it to go where he can find peace and quite. Unfortunately he ended up in the year 1960.
Ad blocker interference detected!
Wikia is a free-to-use site that makes money from advertising. We have a modified experience for viewers using ad blockers

Wikia is not accessible if you've made further modifications. Remove the custom ad blocker rule(s) and the page will load as expected.